Hello bookworms! Today is my stop on The Twin Stars blog tour! You can see the other tour stops here!
(I have a few giveaway and site links to add later because my mouse isn't working very well!)
Thank you to the author for providing me with a copy of The Twin Stars through Lola's Blog Tours, this has in no way shown in my review.
🌟🌟🌟🌟.5/🌟🌟🌟🌟🌟
My obsession with space and falling into fictional worlds is thriving. I was delightfully surprised by this book! It's one of the strongest debuts I've ever read! Here's the interview!
Brooke: What was your inspiration for The Twin Stars?
Bridgette: The Twin Stars was inspired by my own struggles with OCD, which started in childhood and became particularly difficult in my teens. There aren't a lot of YA novels involving OCD out there, so I wrote the book I wished I would have had as an anxious and confused sixteen-year-old. I've also been a longtime fan of science fiction and fantasy. Growing up, I loved Star Wars, the Wizard of Oz, and the Neverending Story, all of which had an influence on this book.

Brooke: Do you have any writing goals like a certain amount of published novels?

Bridgette: Right now, my goal is to finish the rest of the Coseema Saga, which will most likely be a trilogy. After that, I have a standalone YA sci-fi novel in progress that I'd like to finish. It's set on Mars. That one has been a lot of fun to research.
Brooke: What is your favorite part about the writing process?

Bridgette: Probably coming up with characters. I have a background in psychology and I love inventing characters with unique traits and personalities. It's even more fun when the characters begin to take on a life of their own. Sometimes as I'm writing they'll say something or take an action that I didn't expect, but that in retrospect fits perfectly with who they are. My characters feel like old friends. (Or I guess old enemies, in the case of the villains.)

Brooke: What was your favorite part about writing The Twin Stars?

Bridgette: The scenes where Olive is traveling through the desert were my favorite ones to write. I've always loved deserts—there's something frightening and bleak and yet beautiful about them—and while I was writing those chapters, I felt like I was there with her. Except while she was afraid, I didn't have to be; I could just enjoy the scenery and adventure.

Brooke: What are some books you loved that you would recommend?

Bridgette: So many that it's hard to choose. For fantasy, I love Octavia Butler's Patternist series, as well as Dan Simmon's Hyperion series. For specifically YA fantasy, Children of Blood and Bone by Tomi Adeyemi is fantastic. I also like sci-fi, and Andy Weir's newest novel Project Hail Mary blew me away.

Brooke: Do you have a least favorite part of writing?

Bridgette: Editing and revising, probably. (I don't know any writers who actually ENJOY revising.) Trying to fill in plot holes and work out how events are logically connected can also be a slog sometimes.
Brooke: Do you have any tips on writing?
Bridgette: Keep writing, even if it's just a sentence every day. And don't be afraid to let your first draft be terrible. You can always go back and revise, but get the words down on the page.
Brooke: And lastly, a fun non-book related question, what are some of your favorite places to travel?

I love India and Australia. One of the most spectacular places I've ever been to is Hampi, in
Karnataka, India. It's a panorama of boulder-strewn hills, climbing monkeys, and temple ruins that feels like it's out of a fairy tale. I also fell in love with Australia when I visited it in my 20s, especially the rainforests in the northeast. I've had the chance to go back once and would love to do so again.
That interview was so much fun for me and I hope you enjoyed it just as much!
~Review~
The Twin Stars is a novel about an aspiring author named Olive with OCD who gave up on her novel two years ago. When she falls into the world she spent so much time immersing herself in, she can't ignore it. The Twin Stars is about Olive trying to survive the world she created and finding a hero in herself. I especially recommend it to fans of Chris Colfer's novels!
All of the characters were so amazing! I loved Olive, she was so real and I found myself nodding along with her thoughts and actions. Her OCD had great Own Voices representation and while I will never truly know what it feels like to have OCD, I appreciate her voice. Jambol was the most perfect character someone with blue hair can be. He was like a Sweetart in more ways than one. He has a hard exterior but is soft on the inside but he also gives you a little more sour in his seriousness. (That description was weird for me too)
The plot was great! I could tell it was thought through! There were plenty of twists to keep me guessing as well! I also agree with Bridgette, it's so much fun to read/write desert scenes especially because you don't have to worry about your own safety. I think the following GIF explains that feeling.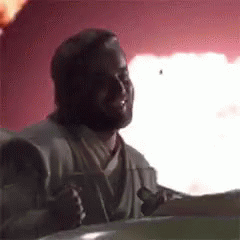 The writing style was good, it fit the story nicely and flowed easily! There were a few details that weren't clear at first though. I loved the snippets of Olives writing and wished there was more of that! It seemed so fantastical and lyrical! Maybe we could get Olive's novel one day. 👀 The worldbuilding was AMAZING!! It was filled with Muses, Bards, stars, moons, spaceships, and so much more!
While the ending was a bit of a cliffhanger, I was okay with it! I loved seeing the characters grow and can't wait for more!
Book info:
A magical journal. A world savaged by its own suns. An evil prince. A princess in hiding. And a teenage girl who learns to be the hero of her own story.
Sixteen-year-old Olive Joshi has obsessive-compulsive disorder, and can't stop worrying about hurting the people she loves. She finds refuge in writing about Coseema, a magical princess on a distant planet. Coseema is fearless, confident, and perfect – everything Olive thinks she'll never be. When she falls through a portal into her own unfinished story, Olive finds herself in a world in peril: double suns scorch the land, the brutal Prince Burnash seeks supreme power, and Coseema is nowhere to be found. Together with her friends – a bold poet, a cursed musician, a renegade soldier, and an adventurous girl from the desert – Olive will have to face her deepest fears to find the hero in herself.
An engrossing new portal fantasy in the spirit of the Wizard of Oz, the Neverending Story, and the Chronicles of Narnia.​
Author Info:
Bridgette Dutta Portman is an author, playwright, and teaching artist. Dozens of her plays have been produced across the United States and overseas. She holds an MFA in creative writing from Spalding University, as well as a PhD in political science from the University of California, Irvine. She is past president of the Playwrights' Center of San Francisco and is currently a board member of the Pear Theatre and a member of the Dramatists' Guild. She lives in the San Francisco Bay Area with her husband Deepanshu and their two young children. The Twin Stars is her debut novel.